Hidradenitis Suppurativa (Injection)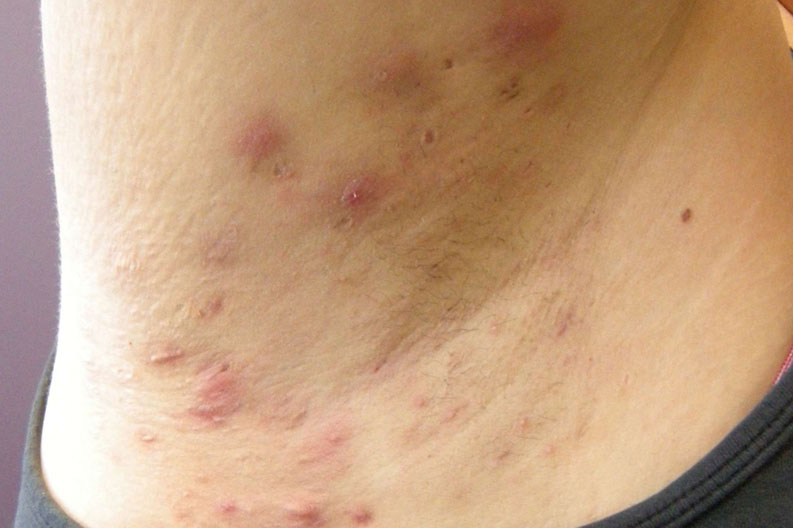 Hidradenitis Suppurativa (injection)
– Adults 18 years and older may qualify for a new injection study.
To parcipate you must:
Have had signs and symptoms of hidradenitis suppurativa for at least 6 months
Have hidradenitis suppurativa bumps (or lesions) in or on at least 2 different areas of your body
Have previously taken antibiotics for the treatment of hidradenitis suppurativa
There are other criteria that you will need to meet before you can join the study. Your study doctor will discuss these with you to find out whether you can take part.
Once enrolled in the study, you will receive either the investigational study drug, bimekizumab, or placebo – a placebo looks similar to the study drug but contains no active medication. You will be randomly allocated (like drawing straws) to one of four groups; you will have a 1 in 7 chance of getting placebo for the first 16 weeks, and then, for the remaining 32 weeks you will receive the investigational study drug, for a total of 48 weeks of treatment. Neither you nor the study team will know if you are taking the study drug or placebo during the first part of the study. This ensures that the results from the tests are handled in the same way.
The study drugs will be given by a subcutaneous (under the skin) injection in your lower abdomen (stomach), thigh, or upper arm. Each injection will last less than 20 seconds. Your study doctor will ensure that, during the injection procedure, you are not able to see which study drug you are receiving. This is called 'maintaining the blind'.
Participants are expected to be in the study for 53 weeks (up to 5 weeks screening plus 48 weeks of study treatment); during this period you will be required to visit the study center approximately 27 times.
Call 817-795-7546 or email studies@acderm.com if you think you would like to participate in this study.