You feel the effects of psoriasis together (Youth)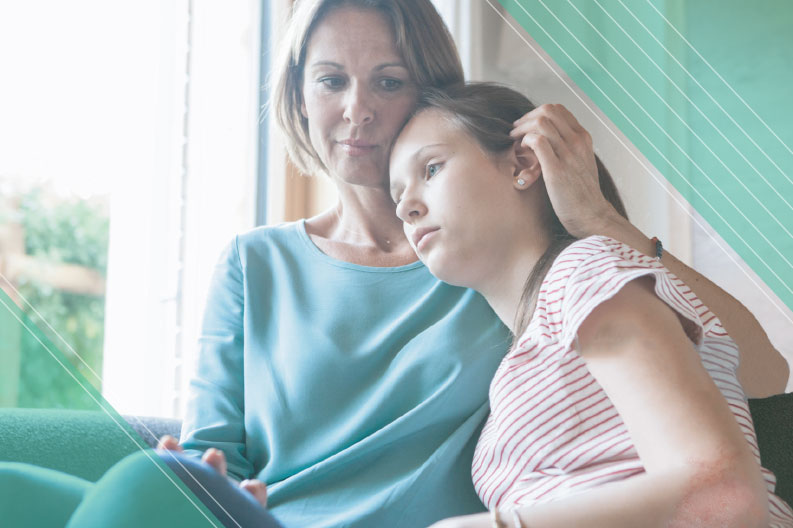 While severe psoriasis affects the skin, causing it to itch and burn, it can also have an emotional impact on adolescents, as well as their parents.
Because of the raised, red, scaly patches on their skin, many adolescents feel ashamed or embarrassed by their condition. These emotions can cause them to not want to hang out with friends, attend school functions, or participate in extracurricular activities.
For parents watching these physical and emotional effects, it's difficult when other treatments have not been successful in managing their child's psoriasis.
Because many adolescents and their families struggle with psoriasis, this research study is being conducted to evaluate an investigational drug for severe psoriasis. In this study, researchers want to learn more about the safety and effectiveness of the investigational drug.
The investigational drug has not been approved by any regulatory agency for the treatment of children and adolescents with this condition. It is only available to children and adolescents in research studies like this one.
The results of this study will provide more information about the investigational drug and whether it could one day be approved for children and adolescents with severe plaque psoriasis.
What will happen during this study?
To participate in this study, all patients will go through a screening process to determine if they are eligible. If a patient meets the study requirements, agrees to participation, and has their parents' permission, they will begin the study.
Patients will receive five subcutaneous injections (needle inserted just beneath the skin) of the investigational drug over the course of 40 weeks. All injections will be given at the study clinic.
Total participation in this study will last up to 65 weeks, which includes approximately 9 study clinic visits for injections of the investigational drug, blood tests, and other assessments, as well as 1 follow-up phone call. Patients who complete participation in this study may be able to take part in a 52-week extension study in which all patients will continue receiving the investigational drug.
What are the benefits and risks related to this study?
It's possible patients could benefit from study participation, but that is not guaranteed. However, participation in this study may benefit children and adolescents with plaque psoriasis in the future.
Patients could also experience one or more side effects. Before beginning the study, the study staff will review all study-related risks and side effects with parents and patients.
Throughout their study participation, patients will be monitored closely. The sponsor of this study was required to design a protocol, which explains all study procedures. An independent review board responsible for patient safety reviewed this protocol, approved it, and requires that
it be followed exactly as written.
Who is eligible to participate in this study?
To be eligible for this study, patients must:
Be 12 to 17 years of age
Have been diagnosed with chronic plaque psoriasis for at least 6 months
All study-related visits, tests, and drugs will be provided at no cost. In addition, compensation for study-related travel may be provided.